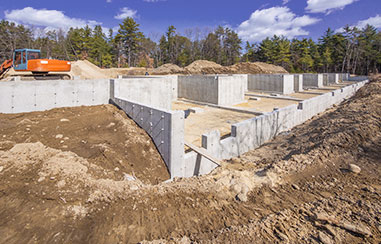 Residential, commercial
and agricultural concrete work
We have 30 years of experience in construction with 18 years specializing in forming and pouring concrete foundations and slabs for Residential, Commercial, and Agricultural projects.
We will attend to your project needs and provide all that you require to build your foundations whether for new construction, existing buildings, expansions and installing foundations under existing buildings (building jacking).
Our team is experienced, professional, courteous and conscientious - we have a solid team which is essential to the success of your project.
Our expertise and skill are well known by a great number
of businesses, property owners and developers.
We form and pour concrete foundations for: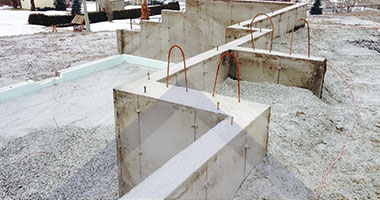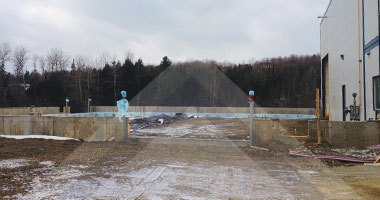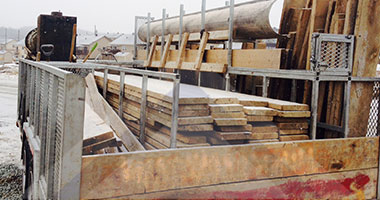 Residential, Commercial and Agricultural Concrete Work
We form and pour concrete foundations for:
Single family homes, duplexes, multi-family dwellings, and condominiums, basements, farm buildings, porches, garages, retaining walls, ­­­floating slabs, concrete floors, etc.
Commercial Buildings including: Pharmacies, dairies, grocery stores, hospital expansions, etc.
Other structures including: Dams for water retention ponds, retaining walls, culvert repairs, and advertising sign bases, etc.
Experienced in project scheduling for timely job completions.
Starting with site work and excavation - the foundation hole must be dug by an experienced excavator.
Form work for footings, walls and reinforcing steel rods (rebar) installation.
Concrete pumping to allow pouring difficult to access areas.
Waterproofing - both coatings and membranes
Pouring and finishing flat level concrete floors with desired finishes (smooth, troweled, broom)
Structural slabs (a structural slab may not always be required depending on the intended use of the slab.)
Installation of pre-fabricated sono-tubes, concrete floors, concrete sawing, PVC window installation, etc.
The majority of our work is performed in the Eastern Townships but we will travel beyond.
We offer exceptional service and quality work at competitive prices.
Our clients always come first, we are enthusiastic, eager, ready to work and willing to assist you with your project.
PLEASE CALL US FOR FREE ESTIMATES